"This is what they call magic these days? This is some kind of terrible shit!"
The Incredible Burt Wonderstone is a good movie but i felt like it could have been something more. It seems 2013 was the year of magic movies as we got both this and Now You See Me sadly though neither of them was able to catch the magic i was hoping for. The trailers did made the movie look a lot better than what the final product was but i don't think the movie should get as much hate as it does. Seeing that this came from the writers that bought us "Horrible Bosses" i think its even more of a let down as we know they are able to conjure up major laughs especially when they have a great cast at their disposal.
The movie follows Burt Wonderstone (Steve Carell) and as a child was picked on by others and had to depend on himself but after receiving a magic kit for his birthday one year he finds himself really liking and just ignores all the bad stuff. While at school during lunchtime Burt is doing some tricks when he catches the attention of another school mate who introduces himself as Anthony Marvelton (Steve Buscemi) after complementing on how cool the magic trick was. They soon become the best of friends doing magic together and grow up to eventually get their own show on the Vegas strip. After ten years of doing the same performance every night ticket sale start to dwindle especially after a new hot shot magician named Steve Gray (Jim Carrey) comes to town. After trying to stage a comeback it fails horrible and after getting into a big argument Burt and Anton split up after 30 years.
Now its just Burt on his own he still tries to do the same act as before but it turns out terrible and is soon fired from his job. From here we see Burt try to regain his love for magic and performing after talking to his childhood idol Rance Holloway (Alan Arkin). The movie is does have a few good moments mostly coming from Jim Carrey but for the most part is rather unoriginal and nothing we haven't seen before. One great thing about the movie though is that it shows what a COMPLETE JOKE magic as become with Jim Carrey basically ripping off Criss Angel by doing a bunch of crazy stunts.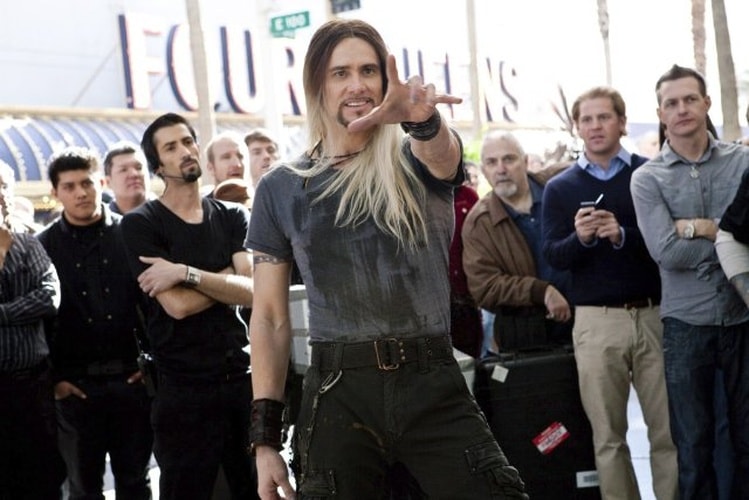 Another great thing about the movie was Olivia Wilde and while her character was pointless she was still great also she looked stunning in all her outfits. To be honest though Steve Carell and Steve Buscemi was a let down to me i was hoping for more but im sure its the scripts fault for that. It was funny trying to make Alan Arkin look young, no matter how much make up they put on him he still looked super old also James Gandolfini was great in this i was hopping for a bit more of him but at least what we did see of him was good.
Overall i give it a 6.0
For only being a 90 minute movie it feels like a 2 hour movie.