"You Americans like to think of yourselves as direct. Perhaps you are just rude."

"You Russians like to think you're poets but perhaps you're just touchy."
Jack Ryan: Shadow Recruit was actually a pretty decent movie and certainly not the worst action movie to come out this year that for sure goes to I, Frankenstein. I really don't understand all the hate for this film i guess maybe since its a Jack Ryan movie people expected more from it but lets be honest here its not like the previous Jack Ryan film (The Sum of All Fears) was all that great either and this one is for sure better than that one. I for one like Chris Pine and thought he did a solid performance in this but i felt that the lacking script held back his performance also once i seen Keira Knightley i thought she was just going to be annoying but surprisingly she wasn't. Kenneth Branagh is known for acting in his own movies and again he does it in this as the villain but sadly he just wasn't that great and the way that
he dies was seriously lame.
The movie follows Jack Ryan(Chris Pine) and after the events of 9/11 he enlist into the US Marine corps and is soon fighting in Afghanistan where he is critically injured when his helicopter is shot down by a RPG missle. During rehab Jack grows a relationship with a medical student Cathy Muller(Keira Knightley) and also catches the attention of Thomas Harper(Kevin Costner) a CIA official. Not long after completing rehab Jack is approached by Harper to join the CIA. Now the film picks up ten years later Jack and Cathy are in a serious relationship together and he is working undercover at a Wall Street stock brokerage as a compliance officer. His task is looking for suspicious financial transactions that would indicate terrorist activity. At a United Nations hearing the Russian Federation loses the vote of the Unites States for keeping it the leader in oil exportation in that area which if not would cause the collapse of the Russian economic system.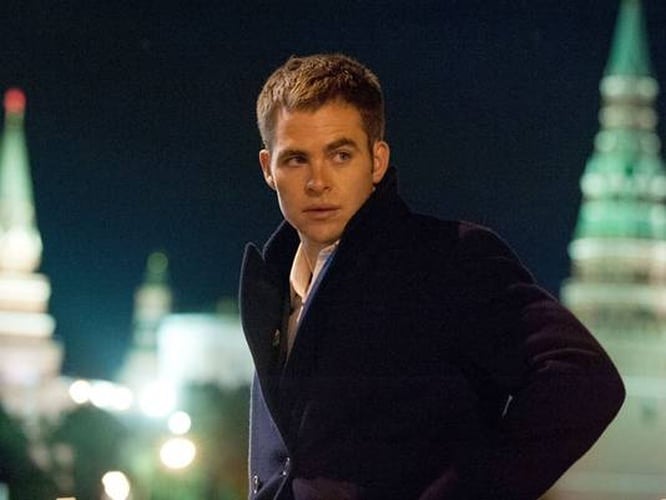 After noticing things are not right with the market Jack comes across some secret hidden accounts once loaded with trillions of dollars owned by Russian organizations and mostly controlled by Viktor Cherevin(Kenneth Branagh), Jack gets the approval of his boss and heads to Moscow to investigate. Now we have our spy movie and honestly i think the movie would have been better if it had a bit more action in it i mean it started out good but then it slows down for about 45 minutes which in a movie of this genre you just cant have that. Although once the operation starts it doesn't let up with plenty of great action scenes, my favorite being when jack picks up a piece of metal and jumps on a moving cars hood then bashes the driver window opening knocking the driver out, sure it may be unrealistic but that doesn't mean it wasn't cool.
Overall i give it a 6.5
Seeing that this movie was made for only 60 million and its made 135 million total i wouldn't call this movie a box office bomb like some do sure the opening weekend was bad but basically any movie that gets released in January bombs. Also Kevin Costner was way better in this than he was in 3 Days to Kill.